Randolph Silver is a Northwest ceramic artist and has been working with clay for over 34 years! Although his studies have led him from the Anagama wood kilns of Japan to the primitive pit firings in the sands of Central America, his work is usually fired in an electric kiln to temperatures around 2000 degrees. He has chosen to limit his wood, soda and salt firing because of the environmental implications of those choices.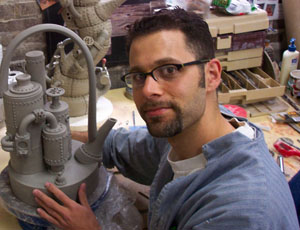 Although frequently surreal and employing trompe l'oeil, much of his work has a sense of whimsy and lightness. He attributes this his dedication to teaching.

Randolph teaches classes to teens, children and adults, too. He has taught adult classes and workshops in the Seattle area at Pottery Northwest, Seward Park Clay Studio, Kirkland Arts Center and various community centers. He teaches youth classes at the Northwest School, the Center School, Seattle International Children's Festival and the Seattle Center Academy.

After graduating with a degree in Economics, Randolph returned to his artistic aspirations and attended Houston Museum of Fine Art's Glassell School. He studied ceramics, wood and metal sculpture and has focused on his work with clay. He completed his Master's in Education with an emphasis on Ceramics, Art and Creativity at Seattle University which has enabled him to share his understanding of clay with people of all ages.

When not working with clay, or working with people with clay, he enjoys playing soccer, squash, snowboarding, back-country skiing, hiking, climbing, traveling, looking forward to Halloween and studying/performing sleight of hand magic. He is an avid bike commuter and a semi-professional magician.